Early Bird Bundle Offer!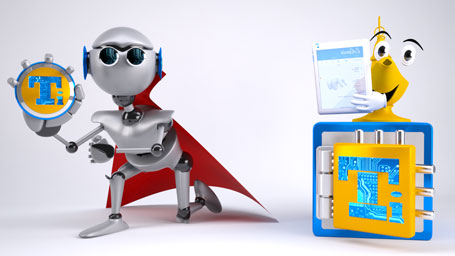 Dear users and friends,
First of all, a big thanks to the 22 million Titanium Backup users for your trust and your confidence in us!
And to our new visitors,
We wish you a warm welcome to the Titanium Community!
EvGenie and MyTi.cloud
Your data is precious, and no one understands this better than us. Hence, we are about to fulfill your wish by introducing 2 new apps; MyTi.cloud and EvGenie that are ready for subscription:
MyTi.cloud – a Swiss based Digital Safe to protect your information, away from prying eyes Check It Out!
EvGenie – a collaborative calendar to organize your events with privacy. Check out its features and the teaser video inside the My Titanium app!
Many of you have requested the ability to preserve the privacy of their own personal information, by keeping control over its use and its storage:
Your privacy is respected,
Your digital rights are protected,
Your files (pictures, videos, sounds…) still belong to you,
"Big ears" and intrusive organizations can't spy on you,
Your profile and your data are never sold nor merchandised to third parties,
Your experience is free of any advertisements.
MyTi.cloud and EvGenie have been built using "privacy by design" principles. MyTi.cloud and EvGenie are for everyone:
Android:

All devices (rooted and non rooted)

PC's:

EvGenie desktop will be available for download on our web site.
MyTi.cloud runs on any HTML5 compatible browser

EvGenie for Apple iOS is planned
Recurring yearly fee at low cost.
From launch day, you'll be able to:
Use Titanium Backup – yes, even the free version! – to sync your backups from your Android device to MyTi.cloud safely,
Store your own files (including personal & confidential belongings) inside MyTi.cloud,
Safely archive your EvGenie events and their content.
We Guarantee
Your privacy: your profile and your data remain private
Your digital property rights: your files remain yours
That your files are kept safe in containers that are inside your safe
That your data is under the protection of the Swiss legal framework that highly respects every individual's right to information privacy, because it is located in Switzerland and remains there at all times
That you can manage the users that are entitled to access your safe
That the EvGenie / MyTi.cloud operators cannot open your safe nor examine its contents
No advertising, no tracking, no sneaky ways to make money on your back: we stick to our business model which is, you pay for what you get – just like how it has always been with Titanium Backup!
Your Responsibilities
You are fully responsible and liable for any content stored in your EvGenie events and MyTi.cloud safe. You commit to only store information that you have the rights to own, ie: that is not illegal, abusive, insulting, stolen, related to terrorism, against civil or human rights, pedophilia, and so on.
Early Bird Bundle Offer
Your subscription will help us finalize the infrastructure that will serve you. With your trust and your precious help, let's build a future that protects your privacy!
This offer includes EvGenie (advanced version) and MyTi.cloud.
If you subscribe now, we commit to:
Deliver EvGenie (advanced version) and MyTi.cloud as soon as we can (we aim for Q2 2017)
Offer you the extended subscription (see table below), starting at product launch date
| Subscription Date | Offer | Details |
| --- | --- | --- |
| First 48 Hours | Lifetime! | |
| First Week | Pay 1 year, get 4 years! | 3 years bonus (no fee during the 3 following years) |
| First Month | Pay 1 year, get 3 years! | 2 years bonus (no fee during the 2 following years) |
| Subsequently until launch | Pay 1 year, get 2 years! | 1 year bonus (no fee during the following year) |
You choose the capacity of your MyTi.cloud safe:
By the way, all trusted followers who have already subscribed MyTi.cloud before this offer will automatically receive the lifetime offer!